Miljoenen mensen bezoeken dagelijks Pinterest om nieuwe ideeen te ontdekken. Dingen die ze willen, plannen, kopen en doen. Bevestig je website op pinterest en krijg toegang tot je Pinterest statistieken.
Pinterest is een van de snelst groeiende websites. De ideeëncatalogus voor iedereen. Een visuele zoekmachine waar je alles verzameld wat je interesseert. Wanneer je Pinterest zakelijk gebruikt, helpt het je meer beezoekers op je website te krijgen.
Wordt ontdekt door miljoenen mensen op Pinterest
Vertel via Pinterest jouw verhaal en laat de hele wereld kennis maken met jouw bedrijf. Betover andere Pinterest gebruikers met jouw prachtige afbeeldingen. Ga aan de slag en maak je zakelijk Pinterest account aan. Word lid als bedrijf en help mensen je bedrijf te vinden op Pinterest.
Bevestig je website op Pinterest
Wanneer je zakelijk gebruik maakt van Pinterest, heb je de mogelijkheid om je website te bevestigen. Na het bevestigen (verifieren) van je website, heb je toegang tot je Pinterest statistieken.
Via je Pinterest statistieken heb je toegang tot interessante informatie over:
• je profiel
• mensen die je bereikt
• je website
1. Klik rechtsboven bij je profielfoto op 'Instellingen' en daarna op 'Profiel'.
Ga vervolgens naar het gedeelte waar je de url van je website kunt invullen (of al hebt gedaan).
Klik daarna op 'Website bevestigen' of 'Confirm website'.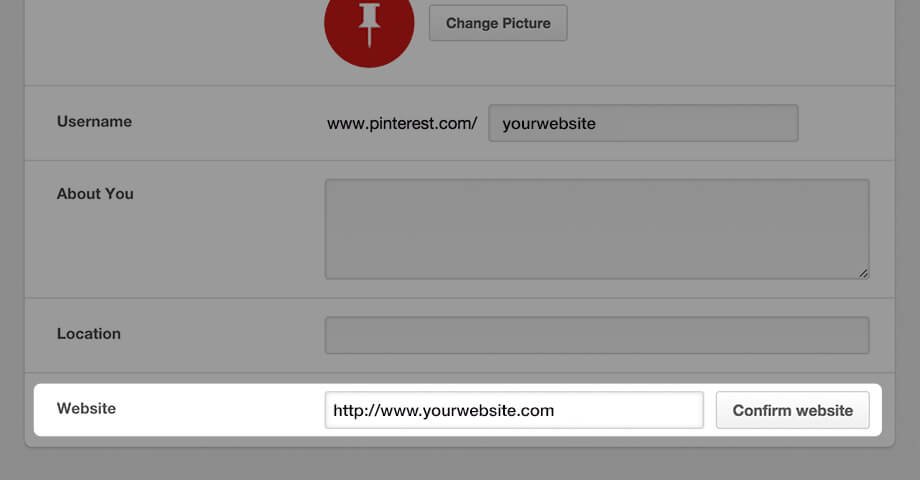 2. Volg de instructies op de volgende pagina. Je kunt bevestigen met een HTML-bestand of een metatag. Vraag eventueel je webmaster om de code toe te voegen of het bestand te uploaden.
3. Nadat je het bestand hebt geupload of de code is toegevoegd, klik je op 'Voltooien'. Zodra je website bevestigd is zie je je logo of profielafbeelding bij pins die mensen vanaf je site hebben bewaard.
4. Gefeliciteerd! Je hebt nu ook toegang tot websitestatistieken bij Pinterest-statistieken. Het kan tot 48 uur duren voordat de statistieken van je website zichtbaar zijn.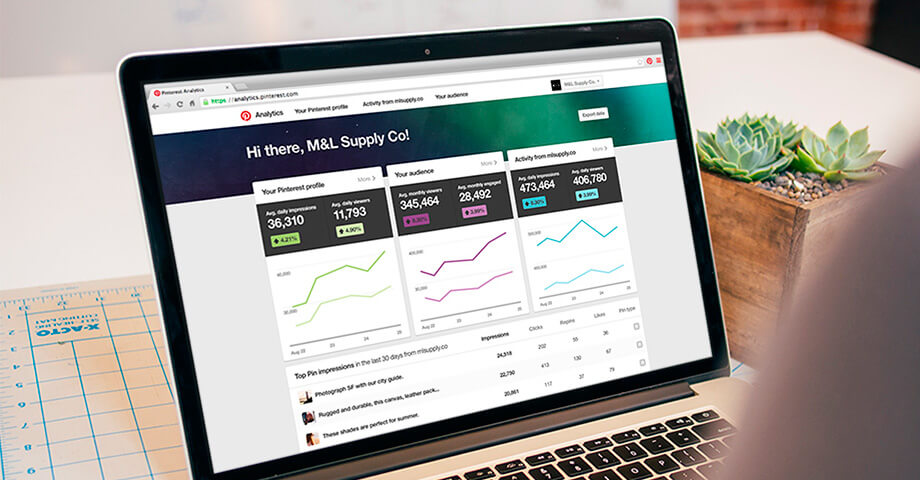 Zo gebruik je Pinterest statistieken
Ontdek met Pinterest-statistieken:
• welke pins en borden van je profiel mensen het leukst vinden
• wat mensen van je website opslaan
• wie je doelgroep op Pinterest is, met informatie over geslacht, locatie en andere interesses
• welke apparaten mensen gebruiken als ze je inhoud bewaren
• hoe het toevoegen van de bewaarknop aan je website kan leiden tot meer bezoekers vanaf Pinterest
Lukt het niet om je website te bevestigen? Kijk dan even in het Helpcentrum van Pinterest.
Vind je dit blogbericht interessant? Volg mij op Pinterest en pin dit voor later!