Afgelopen vrijdagavond 31 januari 2014 was de finale van de uitverkiezing Engaging Woman of the Year 2013 in de Melkweg in Amsterdam.
Engagin Woman Of The Year
De heldere definitie van Engaging Woman Of The Year luidt:
"Engaging Woman Of The Year is een ondernemer, zzp'er of manager die social media doelgericht en succesvol weet in te zetten en haar weg weet in de social media in Nederland. Haar social influence is hierbij een factor."
Samen met Karen ging ik op weg naar Amsterdam, we waren beiden genomineerd en wonen beiden in Uden! Begin januari heb je kunnen lezen dat ik genomineerd was en je je stem kon uitbrengen. Nu was het zover, de finale!
Alle genomineerden waren uitgenodigd om aanwezig te zijn waarbij de jury, bestaande uit Lieke Lamb, Willem Sijthoff, Barbara Barend, Hans Molenaar, Xaviera Ringeling, Stephan Fellinger en Patrick Petersen, de 10 finalisten gedurende de avond bekend zouden maken.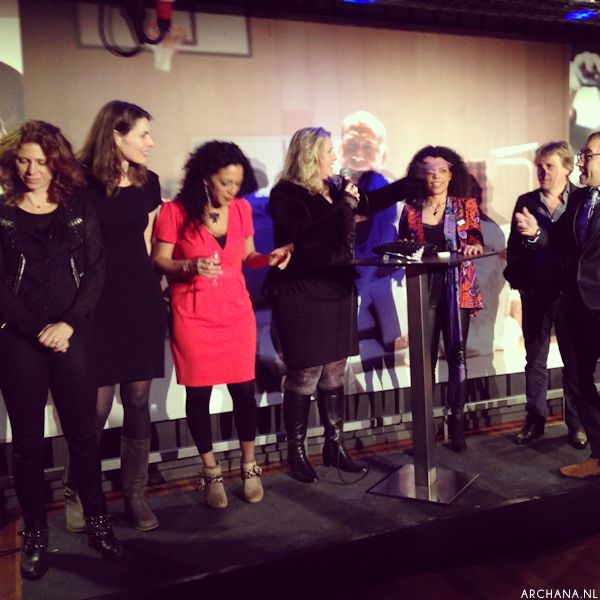 De avond werd geopend door initiatiefnemer van Engaging Woman of the Year: Patrick Petersen
Finalisten Engaging Woman of the Year 2013
De uiteindelijke lijst met 10 finalisten zag er zo uit:
Petra de Boevere
Gonny van der Zwaag
Irena Marmelstein
TINKEBELL
Ebru Umar
Doenja Hagtingius
Eva van Zeeland
Jeanet Bathoorn
Anna-Maria Giannattasio (@Puur)
Archana Haarnack
De 10 finalisten moesten strijden om kans te maken op de titel door toe te lichten waarom juist zij de titel Engaging Woman of the Year verdiende.
Wat een verrassing was het om ook mijn naam te horen als één van de tien finalisten! Ik kon het bijna niet geloven, wat een eer om als finalist mee te mogen dingen naar de titel.
Uit de 10 finalisten werd een top 3 gekozen en aan het eind van de avond bekend gemaakt.
Xaviera Ringeling – e-chick – of te wel Engaging Woman of the Year 2012 droeg haar titel die avond over aan de nummer 1.
Top 3 Engaging Woman of the Year 2013
1. Anna-Maria Giannattasio (@Puur) | blogger, plogger, Puur Events
2. Gonny van der Zwaag (@gonny) | oprichtster van iPhoneclub.nl
3. Tinkebell (@looovetinkebell) | kunstenares
De winnares van Engaging Woman of the Year 2013: Anna-Maria Giannattasio.
Van harte Anna-Maria met de titel en je gewonnen prijs, zwaar verdiend!
Uit handen van Patrick Petersen kregen de top 10 finalisten het door hem geschreven boek 'Handboek Content Strategie'. Uiteraard even op de foto met mijn online held :)
Helaas geen top 3 plek voor mij maar wel een mooie plek tussen de 10 finalisten.
Wie weet volgend jaar weer!
Tot slot wil ik iedereen bedanken die mij heeft genomineerd én voor mij heeft gestemd! Ja, jij! Bedankt!